A Great First Time Experience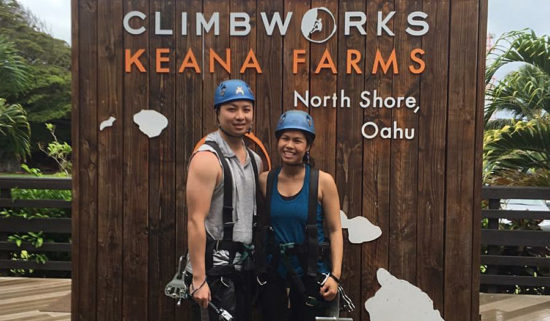 Great first time experience! From the time we arrived at our Hotel that was smack dab in the middle of so much to do and just a short walk to an amazing beach, the room was comfortable and the staff so friendly. I could spend a whole week just wandering around trying the local hot spots. I will always remember my first Luau and the food was some of the best food I have ever had, everything seemed to intensify and come alive once the sun set. Having the opportunity to explore some of the most beautiful scenery in the world was something I will never forget, I will definitely be returning!!
Sincerely,
Kiva S. A.
Portland, OR
Great Hawaii Vacation Thanks To Casablanca Express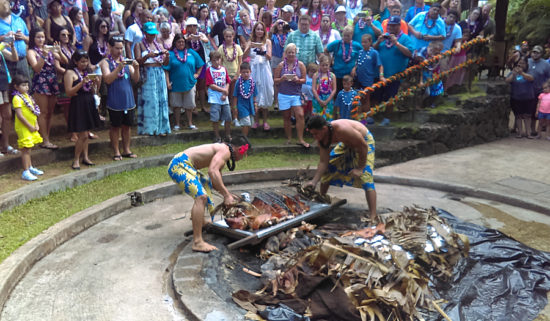 My husband and I had an amazing time in Hawaii. We loved the beach zoo, hotel, mall, clubs with the live bands, Pearl Harbor, Diamond Head Mountain, The Polynesian Cultural Center and diversity of food. We live in Chicago so it was wonderful to get away from the crime, violence and hustle & bustle of the big city. We loved being in a peaceful environment relaxing and spending quality time enjoying each other and exploring new things.
Casablanca Express did a great job booking the trip.
Sincerely,
Lavandy G.
Chicago, IL
Atlantis Is Amazing
My wife and I had a wonderful time on the big Island of Hawaii in April. We enjoyed the Alantis submarine outing to see the bay of Kona. We went on the glass bottom boat to learn the history of the coast and to see the underwater corral formations and the spinner dolphins. We drove to the Hilo side of the island and enjoyed the volcano national park and walking through the lava tubes. We went up north East and went on a horseback ride near the tora fields and enjoyed the rainforest side of the island. Our highlight was with Pack and Paddle snorkleing in cook bay. The operator is fantastic and we saw so many wonderful colorful fish and had a fabulous time kayaking and snorkeling.
Casablanca express fit our schedule in the dates that we needed to coordinate with our travel plans.
It was a great time.
Tom and Silvia T.
A Great Stay
I want to Thank you for the wonderful stay at King Kamehameha hotel. The staff was friendly and very accommodating. Although the hotel was under construction due to the Tsunami that hit a few weeks prior to our arrival, the hotel was still in great shape. What I like the most about this hotel is that everything was in walking distance, that is, restaurants, shopping, and yes a farmer's market where you could purchase fresh fruits and vegetables. You really didn't need a car. King Kamehameha hotel offered a Luau right on the premises. I would definitely recommend this hotel. The swimming pool was clean and had an ocean view, the bar located in the pool area, offered snacks, soft drinks and of course your choice of adult beverages. They also offered daily specials.
One thing I would like to mention is Casablanca Express customer service and reservation process was extremely easy. Thanks for using them.
Sincerely,
Rose G.
A satisfied customer 🙂
A Dream Vacation Made Possible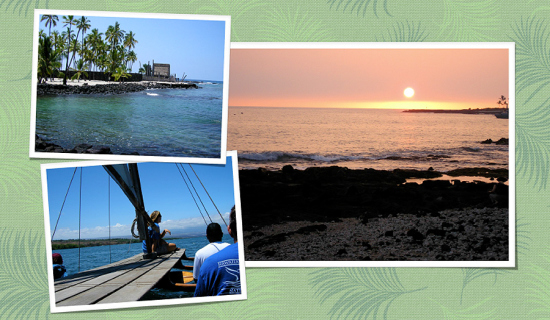 Thank you so much for my fantastic trip to the big island of Hawaii. It was a memorable trip for my 40th birthday. I got to whale watch and eat delicious food. We stayed at Uncle Billy's which was really well located in the heart of Kona and had real Hawaiian rustic charm. It was a dream vacation and you helped make it possible. Thank you so much!
Casablanca Express did a great job booking the trip.
Sincerely,
Melanie and John V.
Vancouver, WA
Would Love To Go Back
I would like to thank you for the trip you offered to Kona ( The Big Island ) . We enjoyed the Island very much and especially the LUAU, it was fabulous, very laid back compared to what I have heard of the other Island's. There are several side trips you can take, however we decided to just rent a car and travel around by ourselves. There is a Costco, Wal-mart and shopping close by. Would we go back again?? Would love to. I also would like to thank the reservation people for all the help they gave me. My hats off to you guys.
Doris S.
Deer Park, WA
10 Wonderful Days
I received from Casablanca Express two 3 nights and 4 days trips to Kona, HI. They did a great job booking me at Kona Seaside Hotel in June 2011. The arrival days were on two following Sundays so I stayed at a different hotel between two arrivals.
Kona Seaside is a budget type hotel but I had a room with ocean view, balcony and free breakfast, Hotel has also a great pool and jacuzzi and is next to all Kona restaurants, shopping and entertainment and a short walk to the beach. People were very friendly at the hotel and actually anywhere, I went. I enjoyed Kona coffee evenings, on the balcony looking to the ocean.
Overall, we spent 10 wonderful days on this beautiful island. I have been on different Islands in Caribbean but Big Island is much more attractive, diversified and weather is at the best. Thank you Casablanca Express!
Lucian B.
Fullerton, CA
A Great Vacation
Last winter we traveled to Kona, Hawaii on a vacation that we scheduled through you. My wife and I had a great time exploring new areas and visiting some of the places we'd been before. As we drove north of Kona, we stopped at several viewpoints to watch whales spouting along the way. On another day, going south this time, we visited the volcano park to see an active volcano.
Our hotel in Kona was centrally located and convenient to stores, restaurants, snorkeling beaches, and farm visits. This is a great area to base yourself for exploring the Big Island or for just hanging out at the beach if that is what you prefer. We know that we will be headed back there again.
Jim M.
Portland, OR
Our Third Trip Through Casablanca Express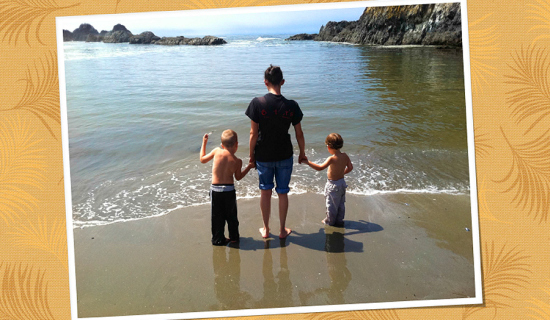 The reservation process was so simple trough Casablanca. All 3 times we went to the Big Island, we would have more than 1 date for travel in mind. However not once did we ever have to use any date other than our first choice. The reservation specialists were always extremely kind and helpful. They would call to make sure we got checked in alright and called after we got home to see if everything went well, if we were satisfied with our experience with Casablanca and to make sure most of all that we had a good time.
The 3 times we went to Hawaii was beyond fabulous! The little Hotel Uncle Billies in Kona, was just the cutest place we have ever seen. Flying over the Big Island was amazing! From the time we landed to the time we left was absolutely breath taking. The smells the beauty of the Island, the people, the places we saw, we will never forget. We swam with sea turtles, went to a black sand beach, walked thru a lava tube at volcanoes national park, went to a luau and many more things, too many to mention. It was a dream come true. We tell people even if we were homeless living on the beach it would still be spectacular. Thank your Casablanca Travel for giving us the free stays. Words cannot say how grateful we are. We Love Casablanca, Thank you again. We would go on another trip if it was possible. Thank You, Again!!!
Mark W.
Fresno, CA
Casablanca Express Made It Possible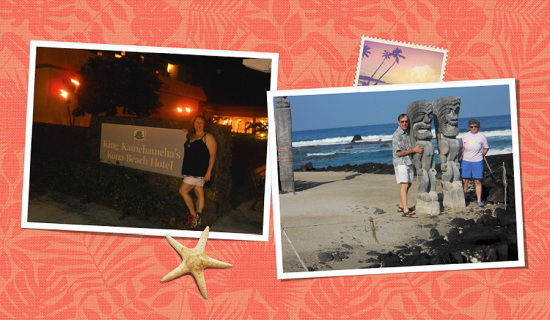 I would like to mention a few highlights of my trip to Hawaii for the first time. Casablanca Express was instrumental in helping me upgrade my package to accommodate me taking my Parents to Hawaii and staying at the King Kamehameha Hotel. This was a Thank you vacation for them, for all the help they give me as a single parent. Casablanca Express made this whole vacation possible. We enjoyed our Time in Kona Snorkeling at Kahaluu Beach every chance we got. Not to mention Body surfing on the silky sands of Kua Bay. We Traveled around the island to Hilo where we sought out the Volcano and Helicoptered over the Pu'uo'o Vog Vents. Then off to the Black Sands Beach of Kalapana. All the while enjoying the Rich bananas and other fruits of Hawaii. I look forward to returning some day with my New Husband and kids. Thank you Casablanca Express!
Sheri K.
Portland, OR
Just Loved The Big Island
Thanks so much for the vacation I received from you via Casablanca Express for two nights in Kona Hawaii. I stayed at the Kona Seaside, a hotel which I have stayed at before. While it is not as luxurious as your resort properties, I like it because of its location in the heart of Kona town so you can walk to great shops and restaurants and the bay for swimming from there. I also like that it is a Hawaiian owned hotel. The hotel is just a half block back from the bay and they actually have a viewing deck by one of the pools where you can watch the sunset. Or you can do as I did and walk just across the road to the beach side and take a picture.
There is a lot to do on the Big Island. There are many venues to listen to music in the evenings! One of my favorites is Huggo's on the Beach which has an excellent happy hour and a live group every evening. Fishhoppers is a great restaurant with water views and great food, just two doors down from the Kona Seaside! Thanks so much for being part of a wonderful vacation....and thanks, too, for the help from the people at Casablanca who made it easy for me....
Carolyne R.
Cave Creek, AZ
Thank You So Much For The Hawaii Trip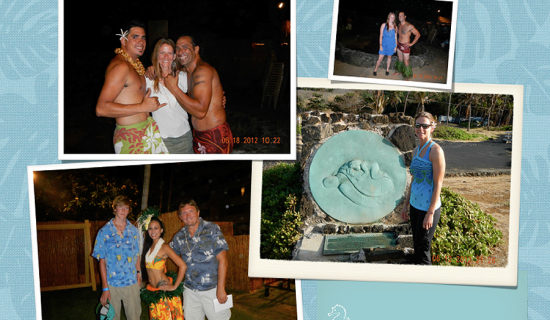 Thank you so much for the vacation to Hawaii, it was a great experience to meet up with my kids in Hawaii. We had a great time. And thank you for making the reservation process with Casablanca Express easy to book. Their courteousness was terrific when I had questions with my trip.
Lawrence W.
Kennewick, WA
A Great Time In Hawaii
We had a great time when we went to Kona, Hawaii in November 2010. I had a 3-night stay certificate which we were able to use in conjunction with a timeshare week that I own. Alaska Airlines had an amazing airfare deal to Kona and the scheduling people at Casablanca were wonderful about accommodating us for the exact days we needed to get the airfare deal. The hotel we stayed at in Kona was perfectly acceptable for a free deal (I was happy that it wasn't Uncle Billy's which isn't a bargain even when free). Clean & safe are my main requirements and it fit the bill (sorry, I don't remember the name of the hotel).
Best regards.
Bonnie N.
Portland, OR