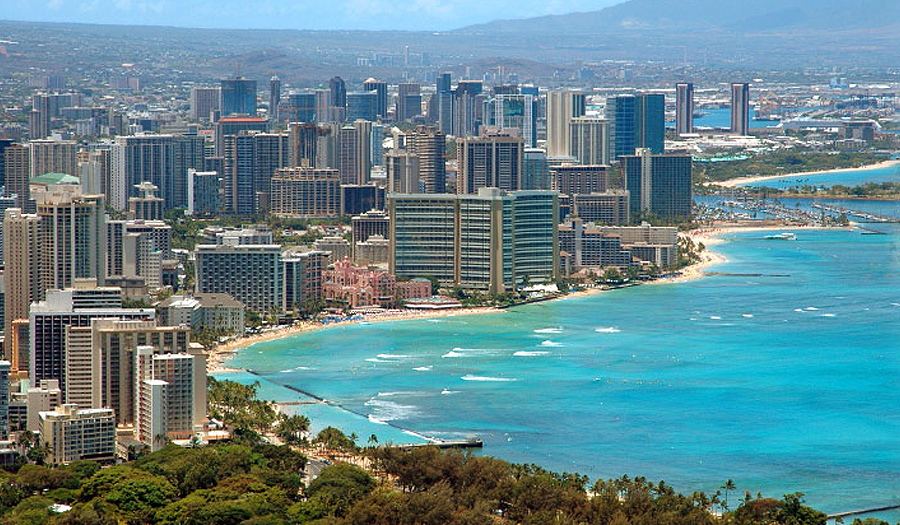 This package includes:
Round-trip air transportation for two adults
Two night stay in a standard Waikiki or Maui hotel
Buy It Now
Travel services are provided by Casablanca Express (CBE)
Important Vacation Details:
Specific flights are assigned by CBE
Flights depart from and return to Los Angeles (LAX)
Flights arrive into and return from Honolulu (HNL) or Kahului (OGG)
Departing flights are generally between 1PM and 7PM
Returning flights are generally between 6AM and 1PM
Flights may include stopovers, layovers and changes of plane
Flights return two days after your travel date
Both travelers must be over 21 years of age
Step One – Purchase Your Vacation Package: Upon purchase of your vacation package you will receive a receipt via email confirming your purchase. Within five business days of purchase, your vacation package will be active in CBE's system and you will be emailed an invitation to contact CBE's reservations department at 1-800-315-2065. The invitation email will include your unique vacation ID that you will use to reference your vacation when contacting CBE.
Step Two – Make Your Reservations: Once you receive an invitation to contact CBE's reservations department you may call to request your travel dates. The invitation will have an expiration date one year from the date it is emailed to you. All travel must be completed by the expiration date on the invitation. When you call to request your travel dates, you will need to provide two travel dates that are 60 days in advance and 30 days apart. You may request any Tuesday travel date where we have availability. We do not have availability during major holidays and special events. After you have requested two valid travel dates, you will be asked to provide a major credit card to pay the required tax deposit*. After you have requested travel dates, CBE will mail you a confirmation receipt showing your assigned travel date.
Step Three – Talk To Your Travel rep: After you request a travel date, a CBE travel representative will contact you to go over all the last minute details. The travel representative will offer any available upgrades including preferred flights, upgraded hotels, extended stays at discounted wholesale rates that are not available to the public (see our Upgrade Price Match Guarantee.) After you finalize your vacation details with your travel rep, CBE will book and pay for your airline tickets and hotel. Until CBE pays for your airline tickets you may cancel and receive a full refund of all monies paid.
Step Four – Enjoy Your Trip! Your travel itinerary will be emailed to you at least 14 days prior to your travel date. Your travel itinerary will include your airline tickets and hotel check-in documents.
Upgrade Price Match Guarantee: We guarantee that the total price paid for any upgrades will be lower than the best available online package price at the time of booking. If CBE is unable to beat the best available online rates compared to the total price paid, you may cancel your trip and receive a full refund of all monies paid plus an additional 10% refund of your purchase price. Gift certificates will be refunded in the form of new gift certificates for certain Casablanca Express packages available on HawaiianTravelEscapes.com. In order to qualify for the 10% additional refund, you must provide the verifiable web address(es) where airfare and hotel with the same room type for the same dates of travel can be purchased online by the general public at a lower rate. You must notify your travel agent of the lower rate and the travel agent must verify the rate online in order to qualify for the additional 10% refund.
* Additional Expenses Not Included In This Package: Government imposed taxes and are not included and must be paid via credit card when making reservations. Government imposed taxes include but are not limited to: Airline Federal Excise Tax, Federal Security Tax, Federal Segment Taxes, Local Passenger Facility Charges, and hotel occupancy taxes. Taxes must be paid by deposit via credit card when making reservations. Taxes will not exceed $69 per person ($138 per couple). Excess tax deposit (if any) will be refunded prior to your travel date. Optional airline imposed baggage fees and seating fees are not included and will be collected by the airline. See Airline Fees for details about optional airline fees. Ground transportation, transfers, meals or any incidental expenses such as phone calls, gratuities or entertainment are not included. Hotel may ask for a credit card or a deposit when you check-in to cover incidental expenses.
Other Restrictions: This vacation package cannot be combined with any other package, discount, or special promotion. This vacation package is void where prohibited by law. Casablanca Express is not responsible for any accident, injury, theft, property damage or personal loss in connection with any transportation, accommodations or other travel services arranged in the fulfillment of this vacation package. Any exceptions or special arrangements for any reason will incur additional fees. This certificate is only valid for the items described herein, no other representations, oral or written will be honored.
Changes, Cancellation and Rescheduling: Reschedules are subject to fee of $35 per person once a travel date has been assigned. Name changes are not allowed. You may cancel and receive a refund of all monies paid as long as CBE has not purchased your airline tickets, a travel representative will confirm your flights and hotel with you over the phone prior to purchasing your airline tickets.
Payments And Refunds: All credit card payments (online and over the phone) will be processed by Casablanca Express (CBE). CBE accepts all major credit cards including Visa, Mastercard, Discover and American Express. All refunds will be issued in the same form of payment if within 90 days of the original payment date, beyond 90 days of payment date, refunds will be issued by check.
Travel services are provided by Casablanca Express (CBE)
CST #1020730-50, WA SOT 601-682-521